Immigration to the US has had four peak periods: the original colonies, westward expansion in the 19th century, rise of cities in the 20th century, and in the 1970's that continues today. Adjustments to immigration policies are rare due to the politics surrounding it and take years to legislate. Reforms addressing problems of illegal immigration as well as those in the legal system have not been updated since 1990. Comprehensive immigration reform has been under consideration since 2001, with major debates in 2006 and 2007. The reform effort was sidelined in 2007 after legislation failed in the Senate. Voting patterns of the 2012 presidential election gave both parties reasons to revisit immigration reforms.
How we got to where we are:
Prior to 1880 immigration was primarily European due to industrialization in Western Europe and the Irish potato famine. The US's industrial revolution drew immigration: Chinese immigrants arrived in large numbers in the 1850's after gold was discovered in California in 1848.
Congress passed the Immigration Act in 1882 charging a collection fee from each noncitizen and immigrants were screened for the first time and entry could be prohibited.
Animosity toward large groups of Chinese laborers and other foreigners rose and a series of legislative measures restricting certain racial groups were enacted beginning with The Chinese Exclusion Act of 1882.
Between 1880 and 1930, 27 million new immigrants arrived – from Italy, Germany, Eastern Europe, Russia, Britain, Canada, Ireland, and Sweden. This led to new restrictions.
Overriding a presidential veto, Congress passed the 1917 Immigration Act prohibiting immigrants from British India, most of Southeast Asia, and the Middle East.
The Immigration and Naturalization Act of 1924 established the national-origins quota system, setting a ceiling on the number from each country. It favored northern and western Europe. In 1952, it set a quota for Asian countries.
It tool until the Kennedy era (post 1965) and the civil rights movement for a new philosophy to emerge. Amendments of 1965 repealed the quota system and replaced it with a seven category preference system based on family unification.
The Bacero program was terminated in 1964 which was used during WWII to recruit agricultural workers from Mexico to fill farm-labor shortages in the US. Immigration became mostly Latin American and Asian.
"Illegal immigration" is a new phenomenon because prior to the 1970's there was no ceilings on visas.
Mexico accounted for the largest share of illegal immigrants. The Immigration Reform and Control Act of 1986 included sanctions against employers, increased border security, and legal status to unauthorized immigrants who had lived in the US for at least five years.
The program failed because those who arrived after the cut-off stayed, border enforcement did not begin until the 1990's, and employer sanctions were weak.
The Immigration Act of 1990 raised caps, modified the visa system, and established the Temporary Protected Status allowing those from countries deemed unsafe for return.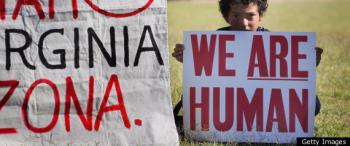 As illegal immigration grew dramatically, negative public sentiment also grew dramatically. A new set of strict laws were enacted by Congress in 1996. However, 9/11 led to the largest reorganization of the federal government since WWII, merging 22 agencies into the Department of Homeland Security in 2003. The immigration system came under intense scrutiny as the 9/11 hijackers had obtained valid visas. Many new and far reaching national security laws were enacted.
(Migration Policy Institute, April 13, 2013, Faye Hipsman and Doris Meissner)
Following the potential candidates for the 2016 presidential elections makes it appear as though the more things have changed, the more they have stayed the same. We hear candidates talking about deportation and building structures to keep people apart. We have president trying to adjust immigration policy while the House and Senate argue over every detail, related or unrelated to immigration.
How did we end up on such a path?