Religious and ethnic minorities and members of LGBT communities are being targeted by the Islamic State of Iraq and the Levant (ISIL), Boko Haram, and Al-Shaabab committing crimes of abduction, rape, and selling women and girls into slavery to forcefully displace large groups from their land. To address these crimes, the United Nations is attempting to collect verified information through UN peacekeeping and political missions, Member States and the UN's non-governmental organizations (NGO) colleagues. In her report, Ms. Bangura has discerned three trends:
Sexual violence has become a tactic of terror due to the rise of extremists and terrorist groups that move across countries and are transnational and trans-regional in nature.
Religious and ethnic minorities and LGBT communities are targeted.
These crimes are being used to forcefully displace people out of their communities and off their land to take the land's natural resources, to grow narcotics, or simply occupy it.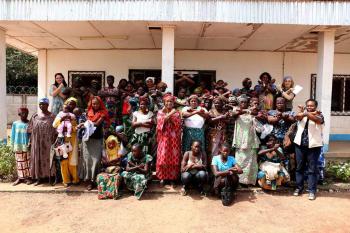 Political commitment is felt to be the solution to stop the scourge. However, the UN does not yet have the tools needed to deal with these new non-State actors. They are different from the local militia the UN is used to working with. The new non-State actors are very sophisticated, well-organized, developed structures, control massive amount of land not in just one country, and communicate using modern technology tools. The UN does not have the tools to combat them and needs to develop better ones. She outlined what the UN needs to do:
Gain understanding about the strategies being used.
What drives these non-State actors.
Develop understanding as to why they do what they do.
Gain greater community engagement from the ones involved in these crimes to get better information on the extent, the victims, and services needed for the victims.
Member States need to:
Increase their commitment, better understand and accept sexual violence as a crime and reduce the culture of denial and silence.
Increase their engagement and support of resources, take the necessary actions and ensure their commitment.
Put in resources such as capacity building, technology, assistance and support, change laws, and make sure the crimes are investigated and the perpetrators prosecuted.
Survivors must be given necessary services: psychosocial, medical, legal and livelihood support.
On the positive side, gains have been made in countries who have increased their political commitment, ownership, and national leadership such as the 'democratic Republic of the Congo, Somalia, Columbia, and Cote d'lvoire.
Ms. Bangura has visited countries, such as Columbia where she sits and meets with the victims. These visits provide hope for the victims who tell her she is the first person to take the time to listen to their stories. This gives them hope because they now know they can fight.
Photo credits
Special Representative Zainab Hawa Bangura meets with a women's group in Paoua, Central African Republic (December 2012). UN Photo/Cristina. UN Photo/Cristina Silveiro