The first of the missing Nigerian Schoolgirls to be rescued from Boko Haram militants, Amina Ali Nkeki, 19, was found with a baby on Tuesday in the Sambisa Forest by an army-backed vigilant group. She was one of the 219 pupils abducted from a secondary school in Chibok, April 2014.
Ms. Nkeki had an emotional reunion with her mother after being held captive for more than two years. Ms. Nkeki was recognized by a fighter of the civilian Joint Task Force (JTF) on patrol as part of a vigilante group set up to fight Boko Haram. She was with a suspected Boko Haram fighter, now in Nigerian military custody who claimed to be her husband. Ms. Nkeki was spotted while searching for firewood in the forest area surrounding the Boko Haram settlement. She stated all the Chibok girls are still there except six of them that have already died.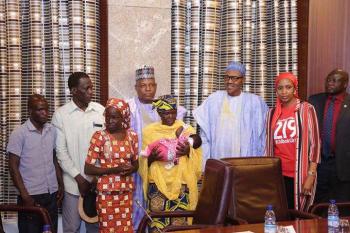 President Muhammadu Buhari stated he was delighted Ms. Nkeki was back and could resume her education. He further stated "…my feelings are tinged with deep sadness at the horrors the young girl has had to go through at such an early stage in her life…although we cannot do anything to reverse the horrors of her past, federal government can and will do everything possible to ensure that the rest of her life takes a complete different course. Amina will receive the best care that the Nigerian government can afford. We will ensure that she gets the best medical, psychological, emotional and whatever other care she requires to make a full recovery and be reintegrated fully into society. Continuation of her education will definitely be a priority of the federal government."
During the April 2014 raid on the Chibok school dormitories Boko Haram gunmen kidnapped 276 girls. More than 50 managed to escape by jumping off the lorries and running into roadside bushes. The abductions led to the #BringBackOur Girls campaign, supported by US First Lady Obama and Pakistani activist Malala Yousafzai.