Belinda in her wildest dreams didn't think she would be where she is today. She always knew wanted to be a singer from an early age.
"I saw what happened to people when I started singing even at the age of 8 and because I wanted to see that over and over again I wanted to sing all the time. From standing on my grandma's porch to singing in church to just singing at my neighbor's house over and over again. Regarding my future goals, it's time for me to pursue the big screen. And besides that, I want to build a school for kids who want to pursue their talent. It's time I help in a big way. I want to release some more music – and albums. Then my own show, as Belinda Davids, will most likely follow as well", said Belinda Davids.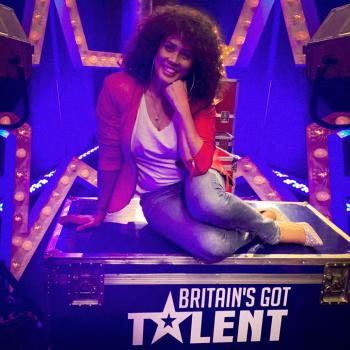 The first time she realized singing made her close one's people happy and herself, was when is around 5 or 6 years old, that's when the struck took over.
Belinda explained her selection it Britain's Got Talent as ecstatic. "I've watched the show so many times and always thought I would never be on that show or that I would never perform in front of Simon Cowell" she said. She further added that "I thought that I'm just another singer, like so many other singers that have been on the show. I have seen them come and go, being from a small town doesn't mean you should think small. So, I never gave up on that dream".
"When I watched my performance live, I cried. It's so overwhelming to think they felt that way. You look for validation from people like Simon Cowell because he is so respected in the music industry, he has made a lot of people famous. He has been in the company and has worked with a lot of artists that have made it in this world",
Mother of two said when she was talking about her standing ovation she received on the show.
Belinda found it hilarious when she mentioned about how her boys always remark when she has to takes up the stage.
"This is so funny, My Joshua (8) he usually says 'no I don't want to go to your shows'. Or when BGT aired he said: 'I don't want to see it'. I'm so glad he doesn't look at me like 'Oh my mommy is that woman'. My son Blake (24) cried when he watched BGT. He said it was like he was watching someone else not me, not his mommy and then he hugged me".
Belinda Davids message to young girls and young boys is that "realize your dream, pursue your dream, it's going to be an uphill climb and it will be hard but don't give up, be the best that you can be for yourself".