May 2016, Johannesburg – Gateway to Space: The Exhibition. The first 10 containers of the biggest exhibition to hit South Africa – Gateway to Space: The Exhibition – have arrived. Another seven are on their way and all are on track for the setup at the Sandton Convention Centre.
"More than 30 people will work for 10 days to complete the setup of this exhibition," says Minette Ferreira, spokesperson at Media24. "It's the first time this exhibition will come to South Africa and the team are made up of more than 20 local staff, four from the United States and five from Europe." Ferreira added that 31 plasma screens and more than 480 m of draping will be used to create an unforgettable exhibition experience.
The attendance in Budapest, Hungary, set a new per-month record, which broke the one set by Prague, Czech Republic, last year, says Mike Flachbart, vice president of Global Space Camp Operations at the US Space & Rocket Centre, which put this exhibition together. To meet the demand the exhibition promoters extended the daily hours, which pushed the closing time to past midnight on many evenings towards the end of the run.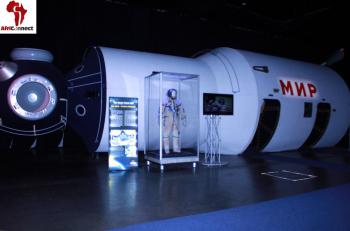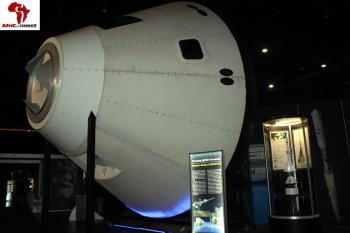 What you can expect
The biggest part of this exhibition is the 15 m life-size model of the Mir Space Station's core module, which served as the primary living space for the crew. Inside you'll find the controls for the environmental systems, the station's main engines and the altitude-control systems. One of Mir's many records includes the longest human spaceflight by Valeri Vladimirovich Polyakov, who spent 437 consecutive days in space from January 1994 to March 1995.
Ferreira says visitors will get an opportunity to walk into this area and see the various buttons and controls of this 20 000 kg replica.
Another highlight is an original Soviet Sokol suit that went into space, which is being flown to the SA exhibition in an air-controlled case. Crews aboard the Russian Soyuz spacecraft use this suit. It was first used in 1973 and is still worn on all launches to the International Space Station. This suit, which weighs about 10 kg, isn't for use outside the capsule in the vacuum of space but protects the crew from unexpected decompression, which occurred when the Soyuz 11 departed from the Salyut 1 space station in 1971.
Other attractions include models of Sputnik 1 – the first satellite in space – the Apollo capsule and the Lunar Rover. You can even touch a moon rock and see the inside of a shuttle's cockpit. "There are more than 60 space attractions in this exhibition and it's truly a once in a lifetime experience," Ferreira added.